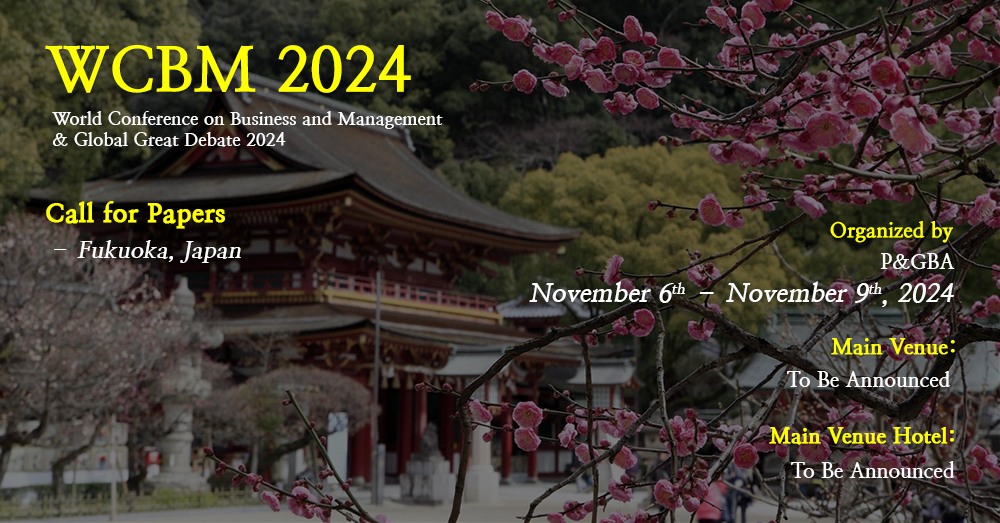 Important Dates
| | |
| --- | --- |
| Abstract Submission Deadline | May 1st, 2020 |
| Early-Bird Registration Deadline | April 1st, 2020 |
| Full Paper Submission Deadline | June 1st, 2020 |
| Standard Registration Deadline | June 1st, 2020 |
Conference Programs
Academic Conference
Global Great Debate (GGD)
Junior Academic Competition (JAC)
Submission
Abstracts should be no more than 500 words.
Any type of paper (abstract only, poster only or full paper) can be submitted.
Abstracts should be submitted online at http://wcbm.pngba.org or by email(wcbm@pngba.org) - rolling acceptances, so you can receive notification of acceptance/rejection within 1 week upon submission.
If selected, authors will be asked to submit final version of papers (read the Manuscript Submission Guidelines which is available at http://wcbm.pngba.org/)
For the full papers submitted after June 1st, 2020, only abstract will be included in Conference Proceedings (ISSN: 2384-3586) and papers will not be nominated for Awards Competition.
Publication
The copyrights of accepted papers for WCBM 2020 are held by the People and Global Business Association (P&GBA). All the accepted papers will be recommended and automatically reviewed by editorial board for following journal : Global Business and Finance Review (GBFR) (pISSN 1088-6931, eISSN 2384-1648) which is indexed/abstracted in SCOPUS, Korea Citation Index (KCI), EBSCO, Infobase Index, Scientific Indexing Services, International Institute of Organized Research (I2OR), EconBiz and AcademicKeys. It is multidisciplinary journal covering all management fields. For more information regarding Global Business and Finance Review (GBFR), please refer to
www.gbfrjournal.org
Topics of Interest
Authors are invited to submit papers that fall into or are related to one or multiple topic areas listed below (but not limited to):
| | | |
| --- | --- | --- |
| Accounting | Information and Technology Management | Service Science |
| Economics | Interdisciplinary Studies | Strategic and Change Management |
| Finance | Marketing and Consumer Behaviors | Tourism and Hospitality Management |
| Human Resource Management | Operation Management and Research | Special Issues |
Keynote Speakers and Eminent Guests
Speakers and guests representing various ministries and its agencies, inter-governmental organizations, practicing consultants, and commercial corporations will speak on a range of topical issues and future prospects at the WCBM special program: the Global Great Debate.
WCBM Chairs
Jeong-Gil Choi, PhD
Chair of the WCBM

President, People and Global
Business Association (P&GBA)

Professor,
Kyung Hee University, Republic of Korea
Kota Inobe
Conference Program Chair of
the WCBM

President,
The Asia Institute, Japan
Daniel Friesner, PhD
Award Committee Chair
of the WCBM

Professor,
North Dakota State University, USA
Hosted by

Organized by




Supported Primary by